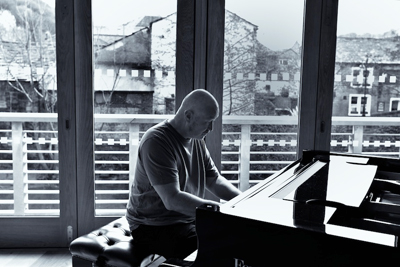 If there's music going on in and around his home town of Hebden Bridge, there's a fair chance that Dave Nelson is involved. Born in London, he has lived in the Yorkshire Pennine town since 1984 and been making music locally ever since.
A freelance musician, some of his work over the last 20 years has involved workshops and projects for schools, colleges and community groups. He is also a professional pianist (playing classical and jazz, both solo and in various ensembles), a private teacher (piano, theory, composition, songwriting) and a composer for the various ensembles he has performed with, and of other music (eg for theatre) by commission. He also sings, plays acoustic guitar, bass guitar and percussion, and has worked with and composed music for most orchestral and many non-western instruments.
Dave was the Music Director of Hebden Bridge Arts Festival for 16 years and now directs Hebden Bridge Piano Festival. He promotes many of the jazz events that take place in his home town, and also runs an annual series of concerts at Wainsgate Chapel in Old Town, Hebden Bridge.